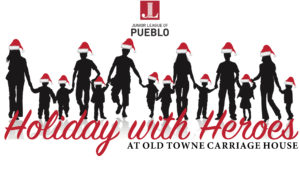 Join us for Holiday with Heroes from 5:30 to 8 p.m. on Thursday, Dec. 6, Olde Towne Carriage House on the Riverwalk.  The family-friendly holiday fair features holiday activity stations that include crafts, games, photos with Santa, and more. Stations are managed by our community Heroes (teachers, doctors, nurses, police, and other safety personnel and mentors) who also provide age-appropriate information on healthy choices for our youth.
Event is free to children from Pueblo's two partnering foster agencies, and is a minimal cost to public. Sponsorship of Holiday with Heroes presents a rewarding opportunity for community-minded businesses to align themselves with efforts toward establishing strong relationships between at-risk kids and safety personnel, and breaking the cycle of negative behaviors that lead to Pueblo's youth being displaced from their homes. Proceeds purchase Sweet Cases – duffel bags with teddy bears, blankets, and hygiene kits for foster children, helping to meet our Basic Needs mission.
The event is open to the public, with tickets costing $20 per family (5 Members or Fewer), or $5 per individual ticket.  CLICK HERE to purchase ticket.
Thank you to our event venue sponsor, The Olde Towne Carriage House and our Print Sponsor Copy(s) In a Flash.  To become a Holiday with Heroes Sponsor, complete form and send to Event Chair Kelly Payne at kmpayne731@gmail.com or Janessa Gallegos at janessajean@outlook.com: Holiday with Heroes_Sponsor Guide_2018.

To make sponsorship payment, CLICK HERE and identify sponsor level and amount:
SANTA CLAUS SPONSOR – $1,000
MS. CLAUS SPONSOR – $500
RUDOLPH SPONSOR – $250
FROSTY SPONSOR – $100
For more information about additional community programming, contact Community Impact Chair Antoinette Ramos at communityimpact.jlp@gmail.com.  For additional information about fundraising opportunities throughout the League, contact Fundraising Chair Emily Stewart at funds.jlp@gmail.com