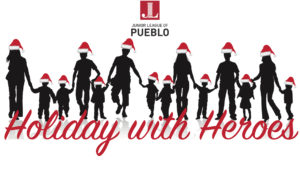 Unfortunately due to the current state of the COVID-19 pandemic, we are unable to hold our annual Holiday with Heroes event.  Junior League of Pueblo is still working diligently to keep key components of our event alive including providing pre-packaged crafts for  partnering organizations, and providing  "sweet cases" for our partnering foster agencies.  If you are interested in sponsoring "sweet cases" please CLICK HERE.  Click on Holiday with Heroes and scroll to sweet case donation.  If you are a business and wish to sponsor the event CLICK HERE.  Click on Holiday with Heroes and scroll to desired donation level.  Junior League of Pueblo has been able to donate more than 500 "Sweet Cases" from this event to local foster agencies.  All proceeds will benefit our local foster agencies, other organizations supplies permitting, and programs designed and ran by Junior League of Pueblo.
The family-friendly holiday fair features holiday activity stations that include crafts, games, photos with Santa, and more. Stations are managed by our community Heroes (teachers, doctors, nurses, police, and other safety personnel and mentors) who also provide age-appropriate information on healthy choices for our youth.
Event is free to children from Pueblo's foster agencies, and to other programs that provide assistance to low income families in our community.  It is a minimal cost to public. Sponsorship of Holiday with Heroes presents a rewarding opportunity for community-minded businesses to align themselves with efforts toward establishing strong relationships between at-risk kids and safety personnel, and breaking the cycle of negative behaviors that lead to Pueblo's youth being displaced from their homes. Partial proceeds of the event go toward the purchase of Sweet Cases – duffel bags with teddy bears, blankets, and hygiene kits for foster children, helping to meet our Basic Needs mission.  Proceeds also go to support Junior League of Pueblo programs and operations.
The event is open to the public, with tickets costing $20 per family (5 Members or Fewer), or $5 per individual ticket.  CLICK HERE to purchase ticket.
To donate to help purchase a Sweet Case, CLICK HERE!
Thank you to our 2019 Sponsors:

A special thank you to the Robert Hoag Foundation!!!
SANTA CLAUS SPONSOR LEVEL ($1000): Dr. Brandon C. Payne Oral and Facial Surgery, Legacy Bank, Pueblo Community College
MRS. CLAUS  SPONSOR LEVEL ($500):  Modern Image Photo Booth Co., Rocky Mountain Eye Center, Parkview Medical Group, AMR, Accelerated Wealth, Pueblo County Sheriffs Office, Health Solutions, Shandy Clinic, Keri and Randy Leiting.
RUDOLPH SPONSOR LEVEL: ($250): Copy(s) in a Flash, Mobile Record Shredders, Nikki Hansen Remax, ACME Cleaners, Sit Means Sit, Pueblo Ice Arena, Giggles & Grin Facepainting, TR Toppers, Keri and Randy Leiting, KLI Landscaping, Station/The Clink, Jeff Falleta & Lori Allen- Re/Max Associates.
SNOWMAN SPONSOR LEVEL: ($100): Land Title, New Leaf Therapy, Darlene Alcala
Thank you to Jennifer Moll, Lisa Mirshamsi, and Maureen Weierbach for your sweet case donations!
To be a hero CLICK HERE!
To Sponsor Holiday with Heroes CLICK HERE!
THANK YOU 2019 HEROES:
American Medical Response (AMR)
Bridges Foster Agency
Centennial High School Health Academy
Centennial Bulldog Mascot
CSU Pueblo Military & Veteran Center
District 60 Teachers / Columbian Elementary School
Junior League Pueblo Members
Pueblo Fire Department
Health Solutions
Kids Crossing Foster Agency
Parkview Medical Center RNs and Physicians
Pueblo Country Sheriff's Office
Pueblo Pulmonary Associates
Pueblo Police Department
Pueblo Community College Dental Students
Protectors of Abused Children (PAC)
Pueblo Central Wildcat Mascot
Sit Means Sit / Caring Angels Therapy Dogs
Springbok Health
U.S. Forest Service
SPECIAL THANKS TO OUR 2019 In-Kind Sponsors:
SPECIAL THANKS TO:
Keri and Randy Leiting (Mr. & Mrs. Claus Visit)
Junior League of Pueblo 2018-2019 Board, Membership, and Sustainers
Little Caesars Pizza (Coupons)
Pueblo Ice Arena (Passes)
Simple Simon Pizza (Food for Heroes)
TR Toppers (Topppings for Cookies)
Thanks to all of our supporters we were able to donate 130 sweet cases to Bridges & Kids Crossing!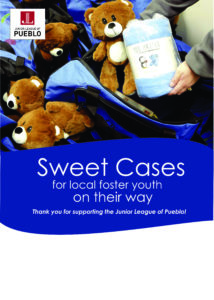 For more information about additional community programming, contact Community Impact Chair Lindsay Schwalm at communityimpact.jlp@gmail.com.  For additional information about fundraising opportunities throughout the League, contact Fundraising Chair Shannon Baillargeon at funds.jlp@gmail.com