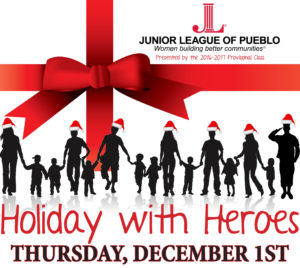 Holiday with Heroes
Thursday, Dec. 1
5 to 8 p.m.
Olde Towne Carriage House on Riverwalk
Purchase a Family Fun Pack: $20 (Gives Entry to 5 Family Members or Fewer)
Individual Tickets: $5 each
Join us for Holiday with Heroes from 5 to 8 p.m. on Thursday, Dec. 1, at the Olde Towne Carriage House on the Riverwalk.  This fun and educational family event will provide holiday activities and games, including a Hot Chocolate bar, cookie decorating, photo with Santa, Riverwalk boat ride, book giveaway, crafts and more.  The holiday stations will be managed by Pueblo's unsung Heroes, including the Pueblo Police, Pueblo Sheriff Department, SWAT, YMCA, Bridges Child Placement Agency, Kid's Crossing Child Placement Agency, Veteran's Council, American Medical Rescue, Pueblo Fire Department, The Go Team Therapy Dogs, St. Mary Corwin Medical Personnel, East High School Choir, District 60 & 70 Teachers, American Legion Veterans, Rawlings Public Library, and Buell Children's Museum.
The dual goal of the event is to provide a fun and safe holiday event, while fostering positive relationships between safety service personnel and community mentors who will provide information and resources on healthy choices for kids and parents. The event is open to the public, with tickets costing $20 per family (5 Members or Fewer), or $5 per individual ticket.
Thank you to the event sponsors: Southern Colorado Oral and Facial Surgery, YMCA  Accelerated Wealth, D&D Marketing, Midtown Shopping Center, Colorado Eagle,  Rocky Mountain Eye Center, Just Digital Photo Booth, Springbok Health, American Medical Response, Little Caesar's Pizza, North Shore Marina, Sit Means Sit Dog Training, A Country Canine Resort, Benefits Broker, ABC Bank, Land Title Guarantee Company, Robert Tibbs of ReMax, Peterson & Fonda P.C., US Bank, Platinum & Co, Historic Arkansas Riverwalk of Pueblo, Chair with Flair, Loaf N Jug, Chamber of Commerce, Banquet Schusters Bakery, TR Toppers, Pueblo Zoo, Pueblo Ice Arena, and Modern Image Photography.
Proceeds benefit at-risk children in our community.  The event is presented by the 2016-17 Junior League Provisional Class. For more information, contact Natalie Reese at nareese03@hotmail.com or Christine Pittman at christine@puebloriverwalk.org.