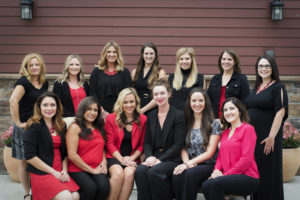 Your 2018-19 Junior League of Pueblo Board
Pictured (TOP, L-R): Sustainer Representative Anne Weirebach, Tresurer Natalie Reese, Communication Chair Michelle Ribaudo, Funds Chair Emily Stewart, Parliamentarian Jenna Seddon. (BOTTOM, L-R): Past President Kim Hinkle, President Elect Raylene Johnson, President May-August Lacy Desmond, President September-April Jessi Ones, Secretary Rebecca Diaz, Community Impact Chair Antoinette Ramos.
The Junior League or Pueblo (founded in 1977), is an organization of women committed to promoting voltuntarism and to improving the community through the effective leadership of trained volunteers.