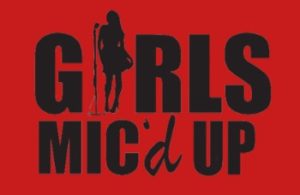 After having to postpone this event for the last two years due to COVID19 restrictions, the Junior League of Pueblo will host the inaugural Girls Mic'd Up April 22, 2022!
Girls Mic'd Up is this year's highly-anticipated premier live event that will be held at the Sangre De Cristo Theatre. Girls Mic'd Up will bring together the voices and insights of a diverse range of women speakers from all walks of life for an unforgettable evening full of personal growth and empowerment. We believe that all women have a story and we are passionate about supporting their real-life experiences and triumphs and elevate their voices.
A sister to our Girls' Night Out event, ladies will enjoy an evening with friends, shopping, sipping on our signature drink, and listening to inspiring stories, all while supporting local programs run by The Junior League of Pueblo.
Girls Mic'd Up creates a platform for women to shine. Do you have an inspiring story that will empower women to achieve more personal growth? Girls Mic'd Up is now accepting speaker submissions for it's upcoming live event scheduled for Friday, April 22, 2022. Whether you're an established leader or a rising star, we'd love to have you as a guest speaker. If you are interested or know someone who belongs on the Girls Mic'd Up stage CLICK HERE to fill out our speaker nomination form and tell us why you or someone else would be well-suited to speak at our event. We can't wait to hear from you!
For a hard copy and more information about becoming a speaker please CLICK HERE.
Please note- Speakers are not paid
SPEAKER BENEFITS
All selected speakers will receive the following benefits:
Complimentary event tickets (6)
Promotion online through social media and event materials
Full biography presented to all attendees in event program
Complimentary head shot
TO PURCHASE TICKETS CLICK HERE
Cost: $12/ Ticket or $20/ 2 Tickets
Interested in becoming a sponsor for Girls Mic'd Up?
CLICK HERE for Title Sponsorship Information!
CLICK HERE for Preferred Business Opportunities!
CLICK HERE to pay for your sponsorship online