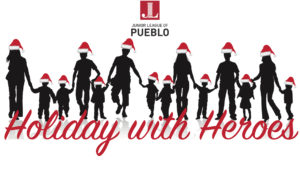 Thursday, December 1st, 5-7pm at the Carriage House 102 S Victoria Ave.
Purchase Tickets HERE.
$5.00 single ticket
$20.00 for family of 5
Fun, family event that will provide holiday activities and games, including a Hot Chocolate Bar, cookie decorating, photos with Santa and so much more!!!
In the past our holiday stations have been managed by the Pueblo Police Department, Pueblo County Sheriffs Office, SWAT, YMCA, Bridges Child Placement Agency, Kid's Crossing Child Placement Agency, Veteran's Council, American Medical Response, Pueblo Fire Department, District 60 and 70 Teachers, along with many, many more heroes!!