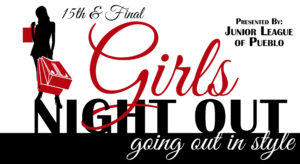 Join us for our final Girls' Night Out (GNO), '15th and Final, Going Out in Style' on Friday, April 5, 5 to 9 p.m. at the Pueblo Convention Center. The event invites women to grab their gals for a night of shopping of 60 plus vendors, sipping signature cocktails, bidding on silent auction items, and enjoying a fashion show and live entertainment by every ladies' favorite local crooner, Patrick Kratzer.  GNO is the League's largest and primary fundraiser to support its efforts to develop female leaders through our need-based mission to empower women and children in the areas of health and nutrition, literacy, and basic needs. This year's event will be our final GNO, and we'll end the evening announcing our new community fundraising signature event, so be sure not to miss!  It will be the biggest and best GNO yet as we celebrate GNO Creator Jana Nolt, past GNO Chairs, and the many women who have served on the committee over the past 15 years.  Cost is $15 in advance or $20 at the door.
TO BECOME A VENDOR OR SPONSOR, SEE BELOW FOR DETAILS:
DIRECTIONS ON HOW TO BECOME A GNO VENDOR/SPONSOR:
Interested in becoming a vendor or sponsor?  If so, follow these steps:
1. Before submitting online payment or form, call or email our Board Fundraising Chair Emily Stewart at funds.jlp@gmail.com or 719.252.8117 to secure your sponsorship. Contact GNO Co-Chair Aubrey Holland at jlpgno@gmail.com to secure your spot as a vendor.  Be sure to contact us before submitting form or payment.  We work hard to ensure we do not have the same exact companies at our show, ie. Mary Kaye, Arbonne, etc., so please help us by reaching out before submitting form/payment.  View complete vendor benefits by viewing: GNO Vendor Form 2019
2. Once you receive confirmation from our GNO-Chair that a spot is available, complete online form, which will redirect you to the payment page.
3. Once you have submitted form and payment, email Stewart/Holland to confirm she received your electronic form and payment.
CLICK HERE to view hard copy sponsor/vendor form; mail to our office at Junior League of Pueblo, 421 N. Main St., Pueblo, CO 81003.
CLICK HERE to complete online sponsor/vendor form, make payment and secure your spot!
SPONSOR/VENDOR AGREEMENT:
By completing and mailing Vendor/Sponsor form or by completing electronically from this site, the customer agrees to the following.  The booth will be an eight ft. by eight ft. space.  Each space will be defined by pipe and drape and four ft. walls that cannot be moved the night of the event.  Each space will include two clothed and skirted six ft. tables, two chairs, and a trash can.  Each company shall receive one booth package and a listing in our official program directory.  Booth assignments are subject to availability, upon receipt of the contract, and a deposit of one half of the total booth cost.  It is understood between JL and the Exhibitor that no refund will be made upon execution of contract and completed exhibit booth assignments, unless notified in writing by February 28, 2019; there will be no exceptions.  Sponsor fee shall remain due even in the event that the Exhibitor does not use booth space for any reason.  It is further agreed, that acceptance of this application by JL will constitute a contract between JL and the Sponsor/Exhibitor.  All proceeds from the event will benefit the Junior League of Pueblo.